West Dorset land search delays 'ruining lives'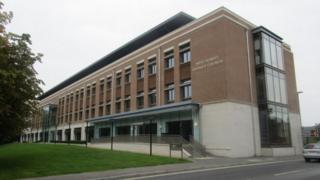 People's lives are being "wrecked" by major delays in land searches in West Dorset, an estate agent has claimed.
Property buyers in the district are waiting nine weeks on average for the council to complete requests.
Mark Meyer of Meyers Estates said the delays, which have been going on more than two years, were causing "chaos" in the local housing market.
West Dorset District Council said it had set out a "range of improvements to be completed by 2019".
---
Average land search times in Dorset:
West Dorset: 45 working days
North Dorset: 12 working days
Purbeck: seven to 10 working days
Christchurch/East Dorset: five working days
Weymouth & Portland: four working days
Poole: four working days
Bournemouth: four working days
---
According to the council, 248 requests for property information were received last month but more than 450 remain outstanding.
Mr Meyer said sales were falling through and chains collapsing as a result.
He said: "Some people just won't buy in our area because of this.
"It's wrecking lives and the stress it causes is very severe to some people. It makes people ill."
'Embarrassing for the area'
Paul Rickman, who is buying and selling in Bridport, applied for searches on his own home before putting it on the market but is now waiting for searches on the property he is buying.
He said: "Our buyer has had to move into her mother's house and our new house is ready. We are in limbo.
"I run a small business and if we ran it like they do, we wouldn't be trading."
Mark Parker of Parkers Estates said the council had told agents some data was still stored on microfiche, making it more time-consuming to access.
He called it "embarrassing for the area".
Council assistant chief executive Stuart Caundle said: "We understand this can be frustrating. We are continuing to work to improve the situation and have an action plan in place, which sets out a range of improvements to be completed by 2019.
"A critical part of this work will be to improve how we access historical data, which will significantly speed up the time it takes to do searches."