Injured Portland diver rescued by back-up helicopter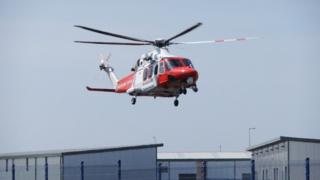 An injured diver who waited 40 minutes to be airlifted to hospital was rescued by a back-up helicopter the day after the local aircraft was axed in favour of a regional service, it has emerged.
Portland helicopter was retired on Friday after 22 years and replaced by a Hampshire-based regional service.
Prior to the Portland aircraft's axing, bosses had said the Hampshire service was only 15 minutes' flight away.
Yet on Saturday it was a pilot from south Wales that flew to the scene.
The coastguard said both the helicopter based in Lee-on-Solent, Hampshire, and the one based in St Athan, in the Vale of Glamorgan, were out on training exercises, but the latter was able to get to the diver "most quickly".
St Athan and Portland are about 75 miles apart, whereas Lee-on-Solent is 57 miles from Portland.
Boat skipper Ian Taylor previously described the diver's wait as "disgraceful".
He interrupted a commemorative event for the axed Portland helicopter on Saturday, claiming its removal from service had led to delays in rescuing the man, off Portland.
The coastguard previously said the area would be served by a new £20m helicopter at the Lee-on-Solent base 15 minutes' flight away, with back-up from helicopters in Cornwall and south Wales.
However, the spokeswoman said the helicopters spend "significant time away from their base", including during "important" training.
The decision to retire the service came despite a campaign and 100,000-signature petition to save it.
It is part of a restructuring of the MCA that will see a fleet of search and rescue helicopters operate from 10 bases around the UK.
Heli Operations saved the Portland helicopter base at Osprey Quay last year and it will now be used as a refuelling facility.