Dorset cliff fall: Man airlifted with 'broken ankle'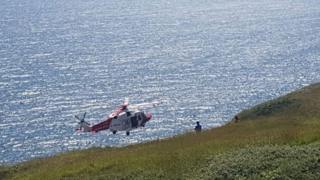 A climber had to be airlifted to hospital after suffering a suspected broken ankle in a fall in Dorset.
The man landed awkwardly on rocks at Durlston Head, near Swanage, on Sunday afternoon.
Coastguards had started to set up a rope rescue when the helicopter from Lee-on-the-Solent arrived in 13 minutes and airlifted him to hospital.
It was the latest rescue for the new regional helicopter service after the local aircraft was retired on Friday.
The axed Portland helicopter ceased operations after 22 years.
On Saturday an injured diver waited 40 minutes to be airlifted by a back-up helicopter from south Wales because the nearer aircraft at Lee-on-the-Solent was on a training exercise.
Prior to the Portland aircraft's axing, bosses had said the Hampshire service was only a 15 minute flight away.
However, a spokeswoman said the helicopters spend "significant time away from their base", including during "important" training.
The decision to retire the Portland service came despite a campaign and 100,000-signature petition to save it.