Dorset councils IT overhaul leads to planning delays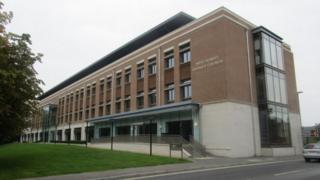 Planning applications in three Dorset districts are being delayed while the authorities overhaul their IT systems.
North Dorset, Weymouth & Portland and West Dorset's joint planning department has moved staff on to the IT project which aims to "improve efficiency".
The upgrade will also include the systems used for land searches in West Dorset where applications are taking, on average, nine weeks to process.
The councils said the upgrade would take up to a year to implement.
New staff are being hired to cover the vacancies but "all posts are not yet in place and there will be further delays until training of these staff can be provided and the backlog reduced," a spokesman said.
Estate agents and homebuyers have previously complained that ongoing delays to land search applications in West Dorset were causing "chaos" in the local property market.
The Dorset Councils Partnership of the three councils said the "major project aimed at resolving significant technical difficulties and improving the efficiency of the service".
The shared planning team, which currently uses three separate IT systems, will move to a single system containing more digitised information, allowing better public access.
The councils apologised for the delays and urged people to keep calls "to a minimum".