Crimewatch appeal over Dorchester serial flasher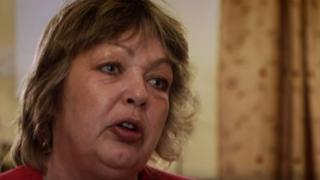 A TV appeal has aired to find a flasher who targeted lone women in their own homes over a four-year period.
The man knocked on doors and windows before indecently exposing himself and performing sex acts in the Dorchester area of Dorset between 2012 and 2016.
The suspect is described as white, aged 30 to 50, between 5ft 6in and 5ft 9in (1.67m to 1.75m), and of medium to stocky build with dark hair.
An appeal to catch the man was shown on BBC's Crimewatch Roadshow earlier.
Dorset Police said the offences occurred during the "hours of darkness" at Fordington Fields, Charminster, Charlton Down and Puddletown, but never at weekends.
In total 29 offences were reported, with 16 believed to have been carried out by the same suspect and 13 also being considered as part of the series, the force said.
Though the offender made no attempt to approach or speak to the victims, they had been left "shaken and afraid", officers said.
'Frightening eyes'
One woman said: "I felt very, very frightened. I was worried about what was going to happen to me."
It happened in July yet he was wearing "a big coat which he used to cover much of his face", she added.
The victim also said she experienced several other suspicious incidents including having insulting symbols and offensive wording drawn on the frosted windscreen of her car.
Sally Hawkins said she had considered moving house after she caught a man carrying out a sex act outside her window.
"His face was covered and he was starring straight at me," she said.
"The eyes were so frightening.
"He seemed to get enjoyment that he'd seen me - I got the impression that he was smiling."