Weymouth Castle Cove Beach: Decision due on access path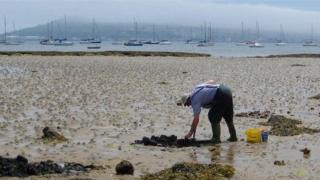 A beach that has been deserted for four years after its access slope and steps were damaged in a landslip may be close to welcoming visitors again.
Access to Castle Cove Beach in Weymouth, Dorset, was closed over safety concerns following a landslip in 2013.
A decision by the county council on whether to grant a public right of way to the beach is expected next month.
Friends of Castle Cove Beach charity said a resolution was "long overdue".
The group applied to have the route classified as a right of way in October 2014.
However, it was told the application was in a queue and unlikely to be considered until late 2018 or early 2019, which resulted in campaigners writing to the Planning Inspectorate.
The government then intervened and told the council it needed to make a decision by 17 July.
However, "due to unforeseen staffing circumstances" the council said it had been unable to prepare a report in time for the 13 July committee and it is expected to be discussed by the regulatory committee on 17 August.
It added the Planning Inspectorate had been informed.
Campaigners hope to lease the necessary land to rebuild the steps and be responsible for their maintenance.
The 15m (49ft) sloping footpath, which is on private land, was closed after large cracks appeared and a section of steps at the bottom was taken away by Weymouth and Portland Borough Council.