Bournemouth bridge crash: Bus firm's licence revoked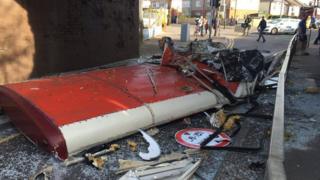 The company which operated a double-decker bus that had its roof ripped off as it went under a railway bridge has had its licence revoked.
Two 13-year-old students were injured when the bus struck the bridge in Bournemouth in April last year.
A public inquiry by the Traffic Commissioner found there was "a lack of continuous and effective management" at the Cavendish Liner Ltd bus firm.
It also said the results of the crash could have been "catastrophic".
The bus was carrying 19 language students from Thailand who were studying at Cavendish School of English at the time of the Clingan Road crash. Four people were on the top deck.
"Had they not been physically able to get out of the way, for whatever reason, the results would have been catastrophic," Traffic Commissioner Kevin Rooney said.
The bus firm operates as part of the school and "rather than as an entity in its own right", he added.
"I do not think that the directors fully realise that the lack of professional competence in early 2016 could easily have caused many lives to be lost."
Cavendish Liner's transport manager Kirsty Fergusson was found to be unqualified for the role and failed to check whether the route was suitable for the bus.
Mr Rooney said the school's operations manager Nathan Santangelo-Barber explained it was because she was the only person in the office at the time who could book school transport, which he described as "an appalling explanation".
Mr Rooney concluded the firm, which has not yet responded to a BBC request for comment, was "not a business that is fit to operate public service vehicles".
Cavendish Liner Ltd's licence will end on 18 July.