East Dorset District Council votes to join merger debates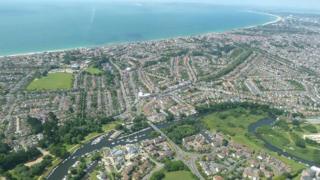 A council that rejected replacing Dorset's nine authorities with two has voted to be involved in debates leading to a potential merger.
East Dorset District Council voted against the proposal by 17 votes to 12 in January.
Members of the authority agreed to take up seats on a joint committee being set up in September at a meeting on Monday.
It said joining the committee did not change its decision to reject the proposals.
East Dorset, which voted against the merger plans along with Purbeck and Christchurch, said it would join the committee on the condition it comprises of six members from the county council and two members from each district and borough council.
'Decision stands'
The authority also voted to reserve the right to explore alternative options whilst sitting on the joint committee, which will discuss proposed changes including "council tax harmonisation" and the disaggregation of services and budgets for any new authority that might be created.
Councillor Simon Tong, portfolio holder for change and transformation, said: "We voted in January not to be part of the Future Dorset submission and that decision stands.
"However, members recognise that the interests of East Dorset residents will be best served if our council takes up its seats so that we are able to share in these discussions while we await the decision of the secretary of state."
The merger plan involves forming one unitary authority of Bournemouth, Christchurch and Poole, and another authority made up of East Dorset, North Dorset, Purbeck, West Dorset, Weymouth and Portland, in a bid to save about £108m over six years.
Six out of Dorset's nine councils have already backed the plans and have submitted their proposal to Communities and Local Government Secretary Sajid Javid.
If the merger is approved it would come into effect from April 2019.