Portland's Verne immigration removal centre 'well run'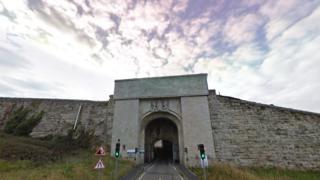 An immigration removal centre has been judged "well run" in an annual report.
The Independent Monitoring Board's (IMB) report of The Verne on Portland in Dorset, said it showed "a positive emphasis on humane treatment".
However it said those with mental health issues and suspected tuberculosis were "inappropriately held in unsuitable accommodation".
A visitors' group had previously raised concerns over the effects of detention on men held there.
IMB also said it was "increasingly concerned" about the number of night-time arrivals being "very high".
In September there were 223 arrivals and 44 leavers between 20:00 and 06:00 BST. It has recommended these moves must stop.
'Ongoing concern'
Campaigners from the Verne Visitors Group previously said they were concerned many detainees had no indication about how long they would be held there.
The group, which offers support to detainees. has not yet responded to a BBC request for comment regarding the annual report for 2016 published earlier.
The IMB report said detainees were treated with "decency, fairness and respect" and described care given to those with mental health issues as "exemplary".
It also said "every effort" had been made to acknowledge diversity in terms of work, education, variety of food and celebration of cultural events.
It added "considerable efforts" were also made to prepare detainees for removal.
But it said "poor quality" accommodation in the care and separation unit was an "ongoing concern".
The Verne operated as a prison between 1949 and 2013. It opened as an adult male immigration removal centre in 2014. Built in 1840, much of it is listed.