Charity reopens upgraded mini-railway in Poole Park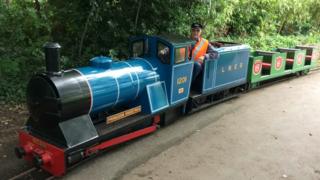 A miniature railway whose previous operator was given 24 hours to shut down in January has reopened under new management.
The Friends of Poole Park successfully tendered for a new 30-year lease after Chris Bullen, who took over the railway in 2004, was unsuccessful.
The charity has refurbished the station, engine shed and train track of the 68-year-old attraction.
It will run as a community interest company for the benefit of the park.
In January, Mr Bullen said people were "in tears" as a lorry removed his trains and other equipment after the "shock" ultimatum following the end of his lease.
Donors pledged more than £2,300 on an online fundraising page to allow Mr Bullen to replace the track and carry out other necessary upgrade work.
He said the money would be given to three charities.