Christchurch council considers joining merger committee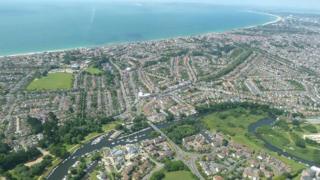 Christchurch Borough Council is considering joining a committee set up to discuss a planned merger of Dorset's councils, despite being opposed to it.
In February, councillors voted against forming a unitary authority with Bournemouth and Poole in a proposed reorganisation of local government.
Councillors are considering joining the committee to influence the plans and protect their voting rights.
A decision will be taken at a special meeting on Tuesday next week.
The proposal involves merging Dorset's nine councils into two unitary authorities, the first made up of Bournemouth, Christchurch and Poole, and the other made up of East Dorset, North Dorset, Purbeck, Weymouth & Portland and West Dorset.
The plan aims to save about £108m over six years.
More on this and other stories from across the South of England
Christchurch, along with Purbeck and East Dorset, voted against the changes earlier this year, despite an eight-week public consultation revealing Dorset residents "overwhelmingly" supported the plans.
Purbeck and East Dorset have already said they will take their seats on their area's joint committee.
Christchurch council leader David Flagg said: "We voted in January not to be part of the Future Dorset submission and that decision stands.
"However, I will be recommending to members that we accept the invitation we have received from Bournemouth and Poole and take up our seats on the joint committee.
"The interests of Christchurch residents will be best served if our council shares in the debates and discussions while we await the decision of the Secretary of State."
Six out of Dorset's nine councils have backed the plans and submitted their proposal to Communities and Local Government Secretary Sajid Javid.
Christchurch said it would hold a referendum for residents but plans for the postal ballot have been on hold since the announcement of June's general election.
If the merger is approved it would come into effect from April 2019.