Dorchester's Roman market site to be revamped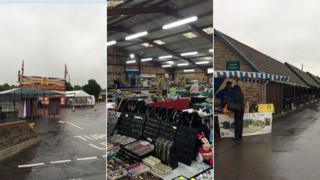 A 150-year-old market built on a former Roman site could be demolished to make way for a shopping complex.
Councillors agreed "in principal" that Dorchester market and Fairfield car park be revamped.
It also supported plans for Charles Street car park to be transformed into a supermarket.
Market traders and residents have said the proposals would "kill" the town. Concerns have also been raised over increased traffic and lack of parking.
West Dorset District Council said it was looking at providing multi-storey parking as a solution.
It also said the market, which archaeological reports have shown was built on Roman and Neolithic remains, would be relocated.
It added however that no proposals had yet been made for where it would move to.
'Historic site'
Resident Lesley Roberts said the market, founded in 1860, was "invaluable" to the town.
Market trader Bob Henderson said: "A development on the edge of town will kill the centre and local shops."
Another trader of 25 years, who wanted to remain anonymous, added: "It is a historic site - it has a charter - how can they move it?"
The meeting of the authority's strategy committee heard on Tuesday the site also includes some listed buildings and is thought to be the site of a Roman fort.
Councillors agreed a presentation about its proposals would be made to members of the public in September, with a consultation to follow.
A report said the plans would ensure Dorchester retains its market and "vibrant high street" while developing the local economy.
However, it added the market had seen a "steady decline" in recent years.