Great Dorset Steam Fair shows WW1 Ypres tribute bells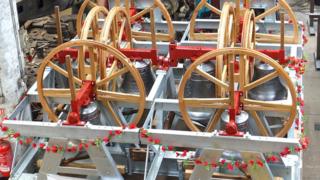 Bells cast in memory of First World War battles near Ypres are going on show for the final time before being transported to the Belgian town.
St George's Memorial Church in Ypres was built to honour tens of thousands of servicemen who died, but funds ran out before bells were fitted.
The eight new bells are on show at the Great Dorset Steam Fair before being installed in the church in September.
Fair director Martin Oliver said it was a "privilege and honour" to host them.
The bells were commissioned by a group of English bell-ringers, who raised more than £195,000 from public and charitable donations.
The set was transported on 22 August from Loughborough foundry, John Taylor & Co, on two World War One era lorries.
The vehicles will leave England on 29 August before participating in the Last Post ceremony at the Menin Gate the following day.
Ypres, one of the few parts of Belgium to be held by the allies, was the scene of three major battles in 1914, 1915 and 1917.
The third battle, known as Passchendaele, alone cost the allies roughly 250,000 casualties, with nearly 80,000 dead.
St George's, an Anglican church, was built in 1927 but the bell tower has stood empty since.
The annual Great Dorset Steam Fair, at Tarrant Hinton near Blandford, is set to attract up to 200,000 visitors over its five days.