Highcliffe scrapped path plan angers campaigners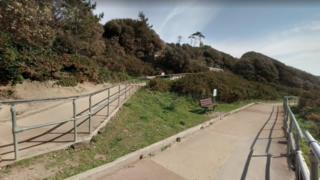 Campaigners say permanently closing a cliff path to a beach in Dorset makes access difficult for the disabled and elderly and families with prams.
The zigzag path at Highcliffe Castle, near Christchurch, was closed by the borough council in March because of safety fears.
Plans to rebuild it were scrapped last month after it was estimated it could cost up to £1.25m.
A petition against the closure has more than 3,000 signatures.
Rothesay Drive Residents Association will present the petition to Christchurch Borough Council at a full council meeting later.
Bob Hutchings, chairman of the association, said: "People are very angry, people are upset, people are disappointed."
Guy Gillet, who is disabled, said alternative routes from the castle to the beach below, including 117 "very steep" steps, were not practical for the elderly, disabled or families with prams and pushchairs.
He said the nearest sloping path to the beach was more than 1km (0.6 miles) away and parking was difficult in that area.
Sally Derham Wilkes, chair of the council's community committee, said: "We did look into cheaper options but we found that they weren't going to be safe, or last."
The council previously earmarked £365,000 for the project and had been awarded £280,000 by the Coastal Communities Fund.
However, it said the cheapest viable solution "could have been up to £1.25m" leaving a funding gap of £670,000.
It had been hoped the path would reopen by Easter next year.
Officers are expected to discuss options for making the site safe and detail alternative options to access the beach in October.