Health bosses press on with Poole Hospital A&E closure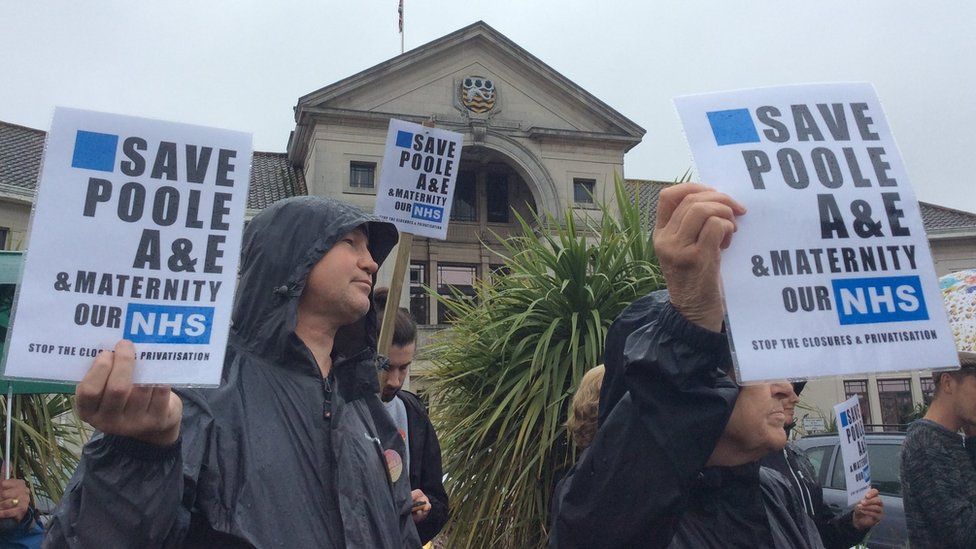 Health chiefs are pressing ahead with plans to shut Poole's A&E in favour of a major emergency hub at Bournemouth.
The move is one of a raft of measures by Dorset Clinical Commissioning Group (CCG) aimed at avoiding a projected funding shortfall of £158m by 2021.
The final recommendations, released earlier, are due to be approved by the CCG's governing body next Wednesday.
The amended proposals give paediatric and maternity services at Dorchester a temporary reprieve.
The CCG is working with health chiefs in Somerset to explore how Dorset County Hospital could share consultant-led maternity and paediatric services with Yeovil District Hospital.
Chief officer Tim Goodson said the CCG had listened to campaigners and encouraged them "to remain active" to help formulate a future solution.
The plans recommended for approval include making Bournemouth the main hub for major emergencies.
Poole would become a centre for planned treatment while Dorchester would provide planned and emergency care as the CCG attempts to stem the flow of hospital patients by providing more community services.
A public outcry meant the CCG recommended keeping the existing community hub and beds at Shaftesbury Hospital but it continues to work towards "a sustainable model for future services", "possibly at a different site".
Similarly, Weymouth's Westhaven Hospital is to remain open amid concerns over the cost of transferring staff and services to Weymouth Hospital.
More community beds are being recommended at Bournemouth to offset the closure of St Leonard's Hospital.
A separate review into Mental Health Acute Care includes the planned closure of the Linden unit in Weymouth and relocating the beds to St Ann's Hospital in Poole.
Sixteen additional inpatient beds are recommended across St Ann's and Forston Clinic near Dorchester.
Related Internet Links
The BBC is not responsible for the content of external sites.