Statues honour former Devon and Dorset Army regiments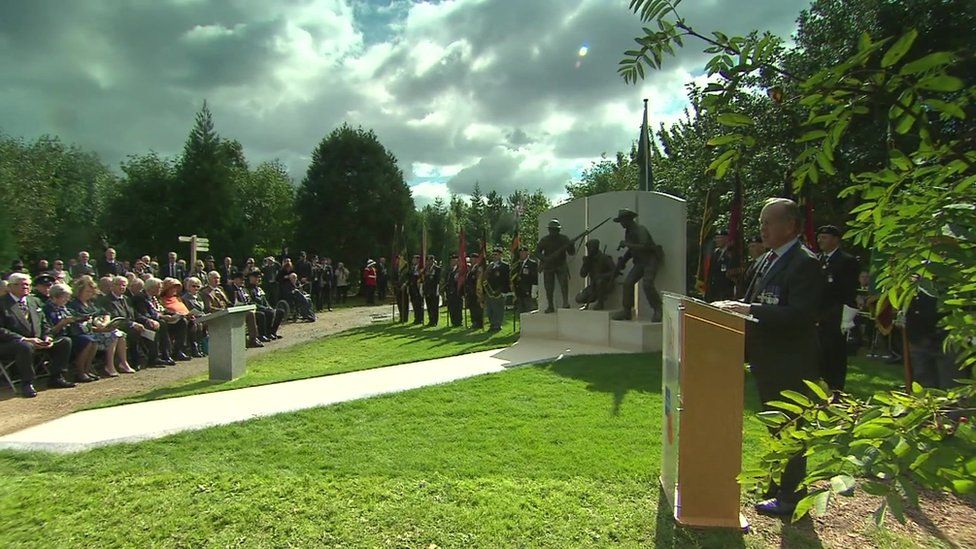 Statues honouring three former Devon and Dorset Army regiments have been officially dedicated at the National Memorial Arboretum in Staffordshire.
The bronze figures depict soldiers serving at The Somme, at Kohima in World War Two and in Northern Ireland.
The two county regiments were amalgamated in 1958 and The Devonshire and Dorset Regiment merged with other units to form The Rifles in 2007.
The Duke of Kent said they had served "with great distinction" for 300 years.
The Duke, who is Patron of the Devonshire and Dorset Regimental Association, laid a wreath at the dedication ceremony on Sunday.
Col Robert Steptoe, who served with the "Devon and Dorsets", said the statues were an "enduring emblem of a regiment that sadly doesn't exist any more".
He said: "It's something I'm afraid the British Army has now lost. All county regiments have now amalgamated or been disbanded and it's very sad.
"This bond, this team-building, is a very strong motivation when you're at war. One doesn't want to let one's friends, one's fellow countrymen, down so you do that much more for them."
The three statues were designed by Hampshire sculptor Vivien Mallock.
The Devonshire and Dorset Regimental Association raised more than half of the £140,000 cost through fundraising.
It said the statues were the first "all-embracing" memorial for the three regiments.
Related Internet Links
The BBC is not responsible for the content of external sites.