Missing Portsmouth bin kittens found after appeal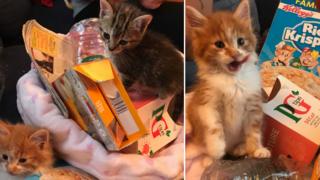 Four kittens are being rehomed after being found in a rubbish bin, moments before they would have been dumped in a waste compactor lorry.
Refuse workers in Portsmouth found six kittens inside a cardboard box in the bin on Friday, but four ran off.
The city council posted an appeal on social media and two of the escapees were found. They are being treated by a cat welfare centre.
The council said dumping them was "unthinkable and totally unnecessary".
The kittens were described as "terrified" when they were spotted by council workers who were emptying the communal bins near Sultan Road, Buckland.
The council appeal was shared more than 1,000 times on social media.
Resident Sophie Louise Hewitt managed to find one small ginger kitten hiding behind a paving slab.
A few hours later a neighbour found another kitten behind a garden shed.
They were taken in by the voluntary cat rescue team at Portsmouth Cats Lost, Found & Rehomed.
Two of the kittens have been named Biff and Sultan.
'Unthinkable'
The council thanked residents for "stepping-up" to help with the search.
In a statement, it said: "Within the hour there were hundreds of shares across Facebook from caring followers, with teams of people out in the Buckland area looking for them."
Housing manager Colette Hill said: "The end these poor animals would have met is just unthinkable and totally unnecessary with so many rescue agencies willing to help."
She urged people to keep a look out for the two remaining kittens who were still "out there somewhere".