Council plan for Poole begging crackdown criticised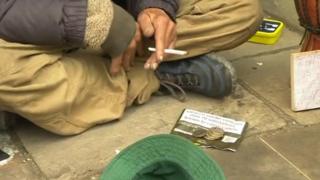 Churches and human rights campaigners have criticised plans by a council to move or fine homeless people begging on the streets.
Borough of Poole in Dorset has announced plans to introduce Public Space Protection Orders (PSPOs) in three areas. Anyone begging could be moved on or face a £100.
The Church of England described the plans as "as draconian and inhumane".
The council said it was consulting over ideas to tackle anti-social behaviour.
A consultation document outlines plans to move on anyone in three areas of Poole found sleeping rough or begging with a bowl and written notice.
Lucy Holt, Church of England rural dean for Poole and North Bournemouth, called the measure "a blunt instrument which doesn't look at the issues" and called for a permanent night shelter in the town.
'Hard times'
Liberty lawyer Lara ten Caten said the use of PSCOs was "criminalising poverty".
"Rough sleeping itself cannot be said to be anti-social behaviour," she said.
"These are just people who are down on hard times, they do not need to be slapped with fines they cannot pay."
Council safer communities manager Ian Cook said the measures would target a "hardcore of rough sleepers who are causing our community harm".
"People in Poole have been telling us rough sleeping, begging and anti-social behaviour is a problem - and saying 'deal with it'," he said.
He said the authority had "supportive measures" in place for rough sleepers.