Poole Pottery shop closure 'will kill town'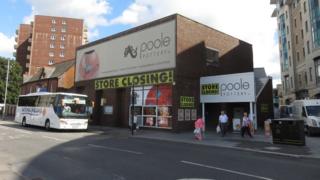 The loss of a Dorset pottery manufacturer in Poole will "kill the town", a campaign group has claimed.
Poole Pottery will close its doors for the final time at the quay later after owner Denby said it failed to reach an agreement with the landlord.
A petition by Poole Pottery Collectors Club to keep the shop open gathered more than 4,000 signatures.
Denby said it was continuing to try to find alternative premises for the 144-year-old business.
The closure of the shop, which also includes a studio and kiln, means 33 jobs will be cut.
Sue Smith, of Poole Pottery Collectors Club, said: "The loss of Poole Pottery is going to kill the town, totally.
"One million people a year go through that shop."
'Lasting mark'
Julie Worthington, who worked as a glaze sprayer at the manufacturer in the 1970s and 80s, described Poole Pottery as "the heart" of the town.
"It brought so much tourism to the area," she said.
"The town is already on its knees - I think this will finish it."
She added it had left a "lasting mark" on the town.
"Carter's Tiles, which became Poole Pottery, can be seen on lots of buildings in the town," she said.
Denby said it had been trying to reach an agreement with the landlord of the property for months.
It added it first made the town council aware of the difficulties Poole Pottery faced in 2014.
Borough of Poole Council previously described the move as "disappointing" and said it had offered support to the firm to find new premises.
Poole Pottery was founded by a builder's merchant and ironmonger in 1873 and remained at its original site.
Production of the pottery will continue at Middleport Pottery, Stoke-on-Trent, where it has been carried out for the past five years.