Teignmouth undertaker jailed for stealing donations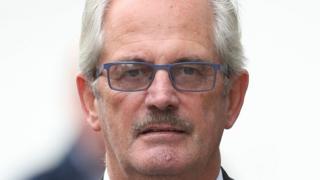 An undertaker has been jailed for stealing £5,000 of donations that bereaved family members and friends had intended to go to charity.
Robert Loveridge, 62, from Teignmouth in Devon, was sentenced to eight months at Exeter Crown Court.
He admitted the charge of theft, and taking cash given at 26 different funerals over eight years, depriving 12 charities of money.
The judge told him it was "staggering dishonesty".
More on thieving undertaker and other Devon stories
Loveridge was the sole operator of the Harris and Loveridge Funeral Directors in Teignmouth and used some of the charity cash to pay pall bearers who he employed by the day.
The court heard the first theft was in 2007.
The deception was discovered when a bereaved daughter called two charities to check they had received donations from her mother and father's funerals.
When they told her they had received no money or cheques she called in the police and Loveridge admitted taking the cash.
Judge Geoffrey Mercer told him: "It was staggering dishonesty to steal money as you did from those who had given it to charity at a time of mourning.
"It was very dishonest and a huge deception of the people who trusted you."
The court heard Loveridge, of Second Avenue, Teignmouth, intends to repay all of the money and the business is up for sale.
The charities which lost money are:
Rowcroft Hospice
Children's Hospice South West
Macular Society
Alzheimer's Society
British Heart Foundation
Stroke Association
Dementia Society
PDSA
Devon Air Ambulance
Teignmouth Coastwatch
Teignmouth League of Friends
RNLI