Swanage Pines Hotel four-level beach huts set for refusal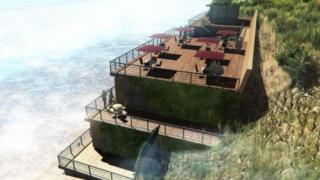 Plans for 45 beach huts on four levels on Dorset's Jurassic Coast are set to be refused.
The proposals for the beach at the Pines Hotel on Burlington Road in Swanage also include communal toilets and stairways.
Purbeck District Council said it had recommended the application be refused as it would "cause significant harm to the landscape character" of the area.
The hotel owners said the huts would bring in tourism.
In its report, the council said: "It is considered that the beach huts, by virtue of their overall scale, form and location, would cause significant harm to the landscape character and amenity of this part of the Dorset Area of Outstanding Natural Beauty and the setting of the Dorset and East Devon Coast World Heritage Site.
"It would add an unnatural landscape feature and extend the built form along the coast."
Natural England and the Jurassic Coast Trust have also objected to the plans.
Pines Hotel owner John Puddepha said: "The plans would open up this end of Swanage to more tourist opportunities.
"Forty five huts would mean quite a lot of people coming into the town, possibly from outside of the area, who might stay overnight."
He said he had spent "an awful lot of money" stabilising the cliffs at the hotel site and hoped the cash made from the huts would enable him to recoup some of the cost.
The recommendation will be voted on by the council's planning committee on 25 October.