Dorchester blue plaque for man who helped slum children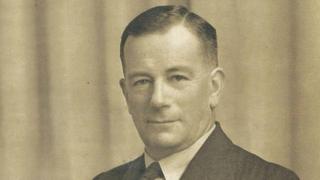 A man who helped hundreds of children living in poverty in Dorchester 100 years ago has been formally recognised with a blue plaque.
Alfred Harman Edwards was 19 when he began to set up food and education centres for young people living in slums in and around Mill Street.
He later went on to set up a housing society which pulled down the poorest houses and replaced them with cottages.
His grandson, Rupert Edwards, said he made it "his life's work".
More on this and other stories from across the South of England
Mill Street, where the plaque is installed, was the inspiration for Thomas Hardy's Mixen Lane in his novel The Mayor of Casterbridge.
According to historians, the area was blighted by hopelessness - most of the men did not work and those who did spent all their money in the pub, leaving their families to go hungry.
David Forrester, who has written books about the area, said: "It was worse than the Gorbals in Glasgow. The real thing about this is that man of 19 years old was willing to step into this rat-infested area and do something for people.
"Not only did he set up the Mill Street Mission and the men's club but also later he tied up with other workers in the town and the Mill Street Housing Society which is what really lifted the area out from what it was."
Mr Edwards said: "I was very young when my grandfather died in 1951, but I used to get stopped in the street by people who remembered him and said what a wonderful person he was.
"He felt things needed to be done to make life better and he took it upon himself to do something about it."