More archaeological digs at Dorchester Roman site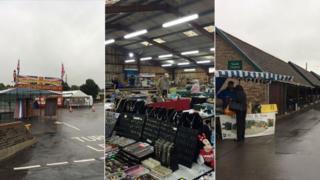 Further archaeological work is to be carried out at a 150-year-old market built on a former Roman site ahead of a planned revamp.
Councillors have already supported plans for Dorchester market and Fairfield car park to be redeveloped.
Concerns have been raised by traders and residents about the future of the market and parking.
West Dorset District Council has now agreed for further "trenching" work to be carried out.
'Four trenches'
"This additional work is intended to further investigate any evidence of Roman burials to confirm the absence of any historical interest," said the authority, which has also backed plans for Charles Street in the town centre to be transformed into a supermarket as part of the proposals.
"Details are still being finalised, but we expect there will be four trenches dug around the car park."
It added the work was likely to take up to three days per trench, with the full works expected to last about two weeks. A date has not yet been given.
Market traders and residents have already said the proposals to revamp the area would "kill" the town.
The council has said it was looking at providing multi-storey parking and would also relocate the market, which previous archaeological reports have shown was built on Roman and Neolithic remains.
However it is not yet known where it would move to.
A report said the plans would ensure Dorchester retains its market and "vibrant high street" while developing the local economy.