Storm Brian washes up Boscombe's £3.2m artificial reef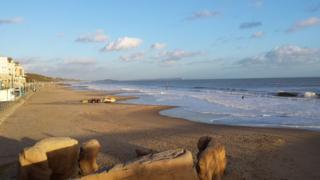 Large parts of Bournemouth's defunct £3.2m artificial surf reef have washed up in the wake of Storm Brian.
The debris from the structure, built in the sea east of Boscombe Pier, has come in with the tide at Boscombe, Bournemouth Borough Council said.
The reef, made of 55 giant sandbags, opened in 2009 after lengthy delays but closed two years later when it was damaged by a boat's propeller.
The council said the reef material would be cleared during beach cleaning.
More on this and other stories from across the South of England
Mark Smith, service director for tourism, said: "There are no plans for further investment in the reef.
"The contribution the reef has made to the rejuvenation of Boscombe seafront is proven and clear for all to see, with Boscombe now firmly on the map again as an appealing and prosperous destination."
The area has since been rebranded a "coastal activity park".
The structure was built by New Zealand firm ASR - it went into liquidation during the repair work to the reef in 2012.
ASR was then struck off a companies' register following the conclusion of its liquidation in August. Its director has still not been traced.