Lyme Regis Candles on the Cobb charity fundraiser saved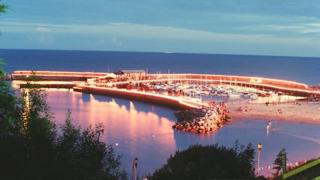 An event to illuminate Lyme Regis harbour with 5,000 tealights will return after being taken on by the town's Rotary Club.
Candles on the Cobb was scrapped last year after organisers said they were "burnt out" by the planning involved.
The event, held five times since 2000, raised more than £130,000 for charity.
The Rotary Club of Lyme Regis said one of the beneficiaries of the next event - planned for 26 August next year - would be the Royal British Legion.
More on this and other stories from across the South of England
A message on the club's Facebook page said: "World War One ended 100 years ago in 2018 and to this end the Royal British Legion will be one of the beneficiaries of the funds raised from the event.
"'Candles' has raised over £130,000 for local and other charities, but it has also captured the imagination, not only of the people of Lyme Regis, but worldwide.
"Rotary has had lots of help from the original committee and we hope that other Lyme Regis organisations will support us when the event is staged. We want to keep it fun, keep it local and keep it going."
Last year, Candles founder Phil Street said the amount of "effort, pre-planning and co-ordination needed" led the organising committee to decide not to stage another event after the last one in 2015.