Night sea search after yacht washes up at Southbourne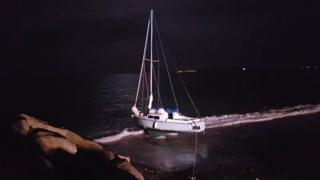 Rescuers spent the night searching the seas off Dorset after a yacht was found washed up on a beach at Southbourne.
A helicopter and three lifeboats spent 10 hours scanning the coastline amid fears someone could be in the water.
The search was called off at 05:00 GMT after nothing was found.
Poole lifeboat crew described the discovery of the vessel as "a mystery". Police later said the owner, a 40-year-old man from Bournemouth, had been located in Christchurch on Wednesday.
More on this and other stories from across the South of England
The 21ft yacht was reported washed up at the end of the groyne at Hengistbury Head shortly after 19:15 on Tuesday.
Thorough search
Volunteer helmsman Jonathan Clark said: "The information that came through was that there may have been a person or people in the water due to how the vessel was found.
"Along with Mudeford [lifeboat crew], we thoroughly searched a large area and were at sea for a long time, working alongside other agencies.
"It is a mystery how the vessel came to be ashore and this will be further investigated by the coastguard."
A coastguard spokeswoman said the "large-scale search" involving coastguards, police and the RNLI was launched after a 999 call reporting a small unmanned yacht.