Rehab centre plan for Weymouth guest house dropped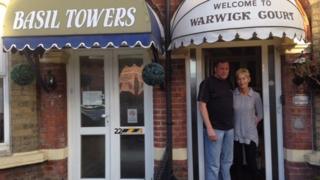 A plan to turn a guest house into a drug and alcohol recovery centre has been withdrawn.
Dorset County Council had applied to create a residential care centre for six people at Basil Towers, Weymouth.
But last month Weymouth & Portland Borough Council said it would write to the county council urging it to drop the plans for 22 Abbotsbury Road.
Neighbouring guest house owners who launched a petition against the plans say they are relieved by the u-turn.
More on this and other stories from across the South of England
Weymouth's planning committee - a consultee on the application - voted unanimously against the change-of-use application, saying the tourist area was the wrong location to treat recovering addicts.
A final decision had been due to be taken by the county's regulatory committee.
Dorset's safeguarding councillor Steve Butler said: "Through the planning consultation period we have listened to the views of local people and have decided to allow for reflection and further investigation of all the options available.
"We will be working closely with the borough council and other partners to identify a suitable property."
John Richards, who runs the neighbouring guest house with his wife Kim, gathered more than 700 signatures against the plans.
He said: "We felt we would probably lose our business because it was so obvious to everyone what the facility was and the amount of people who would be gathering outside the property.
"We are quite relieved we will have our business now for several years, but I don't think it's a celebrating thing because there are a lot of people who needed help who are not going to get the help as quickly as they should because of Dorset County Council choosing the wrong place."