Christchurch residents begin voting on council merger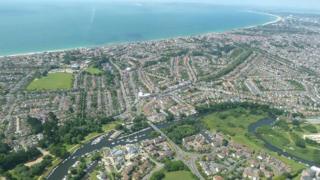 Referendum ballot papers are being sent to residents in Christchurch asking whether they want their council to join forces with Bournemouth and Poole.
Residents have until 14 December to respond to the postal vote on plans to merge Dorset's nine councils into two.
Secretary of State Sajid Javid said he was "minded to" approve the plan despite opposition from three councils.
Christchurch council leader David Flagg said there was "a general feeling" residents were opposed to the merger.
Former Bournemouth councillor David Trenchard, from the Unite the Conurbation campaign, said: "To spend £60,000 of council taxpayers' money on a referendum seems to me to be a waste of money.
"The electorate are being urged to vote no, but it's by far the best solution.
"Businesses have no say at all, which does seem rather strange."
More on this and other stories from across the South of England
Mr Flagg previously indicated the borough might seek to rejoin Hampshire but the idea was abandoned earlier this week.
He said: "Following a meeting with colleagues at Hampshire County Council it has become clear that the option of Christchurch rejoining Hampshire is not something that they can support."
The merger, aimed at saving £200m by 2019, would mean all nine Dorset councils would cease to exist.
Bournemouth, Poole and Christchurch would merge and a second council would be formed from East Dorset, North Dorset, Purbeck, Weymouth and Portland and West Dorset.
Christchurch, East Dorset and Purbeck councils all voted against the plans earlier this year, but an eight-week Dorset-wide consultation held in 2016 found residents "overwhelmingly" supported the plans.
A period of representations from the affected councils will run until 8 January when Parliament will have the final say.