'No significant archaeology' at Dorchester Roman site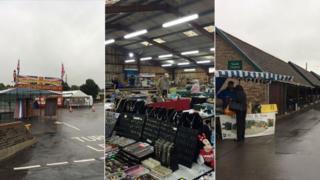 No significant archaeological finds have been made at a 150-year-old market built on a former Roman site following further digs, a council has said.
West Dorset District Council has already supported plans for Dorchester market and Fairfield car park to be redeveloped.
Concerns have been raised about the future of the market and parking.
The digs found a ditch and "a few small pits" but on their own are "not deemed significant", the authority said.
Context One Heritage and Archaeology's initial report about the undated features will now be sent to the county archaeologist, who advised on the location of the digs.
It will then be reviewed before the full details and summary are made public, said the council, which has also backed plans for Charles Street in the town centre to be transformed into a supermarket as part of the proposals.
The authority previously said the work was carried out "to further investigate any evidence of Roman burials to confirm the absence of any historical interest".
Market traders and residents have already said the proposals to revamp the area would "kill" the town.
The council has said it was looking to provide multi-storey parking and will also relocate the market, which previous archaeological reports have shown was built on Roman and Neolithic remains.
However, the authority has not yet decided where it will move to.