Dorset NHS hospital shake-up review attempt fails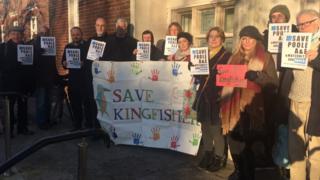 An attempt to have a decision to reorganise Dorset NHS hospital services reviewed by the government has failed.
Dorset Clinical Commissioning Group (CCG) agreed changes, including the closure of Poole's A&E, in October.
The county council's health scrutiny committee said it had concerns about the loss of beds and services, and recommended a review.
However, the authority's joint committee said it would not be referred to the secretary of state for health.
Under the plans, Poole Hospital will lose its A&E, maternity and paediatric services to Bournemouth, which will become the main emergency hospital, with Poole becoming a centre for planned treatment and operations.
'Suffer massively'
The CCG also agreed Dorset County Hospital should find ways to share its paediatric and maternity departments with Yeovil District Hospital in Somerset.
Changes to mental health acute care include the closure and relocation of beds at the Linden unit in Weymouth and the creation of extra inpatient beds at St Ann's Hospital in Poole and Forston Clinic near Dorchester.
The decision not to have a review was made at a meeting on Tuesday at county hall in Dorchester, where a protest by opponents to the scheme was also held.
Campaigner Naomi Patterson said: "People from the west side of the county will suffer massively if we've got to travel to the east of the county.
"We've got a lot of mums on Portland who have had a lot of premature labours and they say that they just would never have made it if they'd have had to travel to Bournemouth."
The changes are aimed at avoiding a projected funding shortfall of £158m by 2021.
Opponents now hope to launch an application for a judicial review at the High Court within weeks.