Behind schedule Poole Bridge reopening further delayed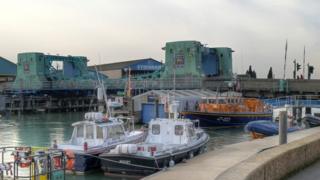 The reopening of a lifting bridge that is already six months behind schedule faces further delays.
Poole Bridge closed in September 2016 for £4.2m maintenance and refurbishment works, and had originally been expected to reopen in June.
The latest reopening date was supposed to be Friday but Borough of Poole council said this would no longer go ahead.
The authority said it hoped the bridge would reopen before Christmas.
The council said the delivery of totems designed to house the traffic lights and barriers had been delayed.
The contractor is also behind schedule in installing the vehicle and pedestrian gates and the safety features still need to be tested, it added.
A spokesman on behalf of contractor Interserve said it was "working very hard" to open the bridge "as soon as is practicably possible".
The firm also mentioned "ongoing design changes, supply delays and current adverse weather conditions."
Bus operator MoreBus tweeted the reopening would now happen on 23 December.
It has also rescheduled its services as a result.
Previous hold-ups to the reopening of the crossing, linking the town centre to the port and ferry terminal, were caused by issues with the supply of "key components", the authority said.
It blamed earlier delays on the discovery of live cables as well as the buried remains of previous bridges and an old quay wall.
Opposition councillor Mark Howell, leader of Poole People, described the latest delay as "frustrating" and said he would be calling for an inquiry.
He added: "It just portrays the council in such a bad light."
The work has involved replacing the road spans as well as widening the footways.
Vehicles and pedestrians have been able to use the nearby Twin Sails Bridge, which opened in 2012.