Guy Hedger: Murder suspect had 'stopped burglaries'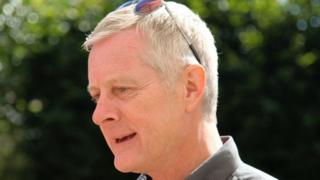 A suspect accused of shooting dead a businessman in a botched burglary has said he did not commit burglaries where householders were at home.
Jason Baccus told Winchester Crown Court he had committed domestic and commercial burglaries in the past to fund his drink and drug habits.
Guy Hedger, 61, was killed in the raid at his home in Ashley, Dorset, in the early hours of 30 April.
Mr Baccus, Scott Keeping and Kevin Downton all deny murdering Mr Hedger.
Giving evidence, 42-year-old Mr Baccus said he had "spent most of my adult life in prison," having started shoplifting at the age of five.
He said that in recent periods out of prison he would stay with co-defendants Scott Keeping and his wife Helen at their home in Verney Close, Bournemouth, and would would take heroin and crack cocaine with them.
'Get unstuck'
Mr Baccus also said he carried out shoplifting and commercial burglaries but had stopped committing domestic burglaries.
"I have been trying to get myself away from doing them for ages but get unstuck sometimes," he told the court.
He told the court he had been offered £300 by a friend to be the go-between for some planned burglaries in the Ringwood area, and also that he had bought a Ford Focus car linked by the prosecution to the fatal burglary.
He said he had dropped the car off in the Upton area for co-defendant Kevin Downton to use on the night of the burglary.
Diamond jewellery and watches were among items stolen in the burglary at the luxury property near Ringwood.
The trial previously heard how Mr Hedger was shot as his husband, Simon-Pierre Hedger-Cooper, activated a panic button.
Mr Baccus, 42, and Mr Keeping, 44, both of Verney Close, Bournemouth, and Mr Downton all deny murder, possessing a firearm, aggravated burglary and burglary.
Helen Keeping, 40, from Poole, denies two charges of assisting an offender.
The trial continues.