New Year's Day Poole Harbour bath tub race called off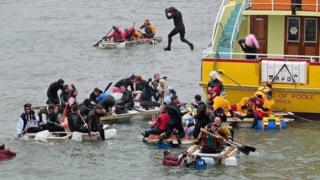 A New Year's day bath tub race in Dorset has been cancelled on health and safety grounds.
Poole Harbour Commissioners (PHC) said it would not permit the race - which has run for 43 years - to take place as "safety criteria has not been met".
The annual event on 1 January sees teams race in Poole Harbour in homemade craft made out of bath tubs.
Organisers, The Blue Boar, said they were "unable to comply at such short notice" with the requests made by PHC.
Manager, Adam Morris, said: "It was sprung on us at the last minute.
"We will be working hard with local authorities for future years".
In a statement, PHC said: "We realise that this will be a disappointment to some but please be assured that this decision was not taken lightly and based entirely on safety grounds, which the event organisers fully understand."
It is hoped the event will be staged again in 2019.