Dorchester maternity and paediatrics services could stay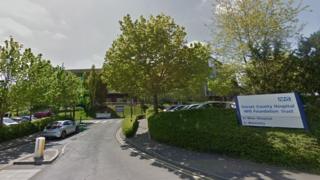 Health bosses have announced plans to keep a consultant-led maternity and overnight children's service in Dorchester.
Dorset County Hospital had been expected to share its paediatric and maternity departments with Yeovil District Hospital in Somerset.
The move was one of many by Dorset Clinical Commissioning Group (CCG).
The CCG said the shift comes because Somerset CCG's is now carrying out a full clinical service review.
"Degree of certainty"
Chief officer Tim Goodson said: 'We know from our experience that such reviews are complex and take a considerable time to undertake and reach a decision point.
"We are taking this step now to give parents, children and staff a degree of certainty about their future."
The CGC said if "a sustainable model" for the services could be found the proposals in Dorchester would go out to public consultation in 2018.
Also under the plans, Poole Hospital will lose its A&E, maternity and paediatric services to Bournemouth, which will become the main emergency hospital, with Poole becoming a centre for planned treatment and operations.
CCG said the changes were needed to avoid a projected funding shortfall of £158m by 2021.