Poole Harbour bathtub race 'secure for future'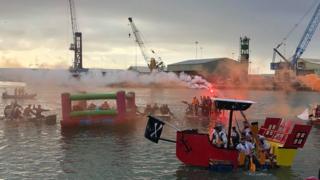 A New Year's Day bathtub race which was under threat due to health and safety concerns, should be secure for future years, organisers have said.
The event in Poole, Dorset, was initially called off in late December after Poole Harbour Commissioners (PHC) said safety criteria had not been met.
Sixteen teams took part in the charity fundraiser after PHC eventually approved new health and safety plans.
Organisers said existing safety measures had been "enhanced".
Adam Morris, manager of the Blue Boar pub which has organised the event for 43 years, said the heath and safety provision had been "brought up to date" with more marshals and medics.
"Looking ahead to next year we'll work closer with the PHC to make sure everything is up to standard," he said.
The RNLI said it had to rescue three crew from the water after one raft was swept against a moored passenger ferry by the outgoing tide.
Helmsman Dave Riley said: "It was good to see the race competitors wearing buoyancy aids and heeding the safety guidelines.
"The strong ebb tide caused problems for a few after the race, we can never underestimate the constantly changing tides."
PHC was criticised by dozens of people on social media when it first announced it was cancelling the race on 19 December, which had been an annual tradition.
The following day PHC said it had a "positive" meeting with organisers and later confirmed the race could go ahead "with safety at the forefront".
A PHC spokeswoman praised the local community for "rallying" to ensure safety measures were in place.
"We will be working with the event organisers in the coming months to ensure that the adequate safety measures and the appropriate insurances will again be in place in plenty of time for next year's event."
More than 2,500 people turned out to watch Monday's event which raised more than £650 for Julia's House children's hospice.