Dorchester 'hit-and-run' appeal to garage mechanics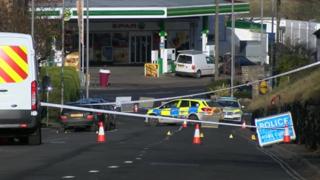 Mechanics asked to fix a damaged car in the days after a woman was killed in a suspected hit-and-run have been urged to come forward.
The 39-year-old mother of a young child, was hit by a car on The Grove in Dorchester, Dorset, shortly before 20:00 GMT on Wednesday.
Dorset Police said somebody may have noticed "sudden, unexplained damage" to a relative's or friend's car.
Three men arrested after the crash have been released without charge.
A force spokesman said: "We believe the car involved will have damage to its front.
"Family or friends may have noticed sudden, unexplained damage or it could have been taken for repair.
"We're asking garages and car repairers to share our appeal and contact us if they have had a customer request an urgent repair."
Police said they also urgently wanted the drivers of four cars seen in the area at the time of the crash to come forward.
Insp Joe Pardey said the victim had a young child, who is being looked after by her grandmother, and that the crash was a "tragedy for the family".
"We have got many resources looking into this investigation and we will find the person who was driving the vehicle," he said.
"It is just a matter of time. I would make a special plea for the driver of that vehicle to come forward now before we come knocking on your door."