Dorset drug-driver jailed for killing motorcycle couple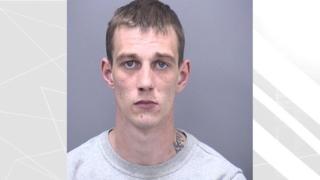 A drug-driver has been jailed for causing a crash that killed a motorcyclist and his wife.
Sid Samways, 74, and his wife Barbara, 71, of Blandford, Dorset, died after a crash with a car near Shaftesbury in April.
Jamie Myers, 25, pleaded guilty to causing death by driving without due care and attention while over the drug-drive limit.
He was sentenced at Bournemouth Crown Court to five and a half years in jail.
Myers, of Donhead St Mary, Wiltshire, was driving a Ford Escort toward Shaftesbury on the Higher Shaftesbury Road on the afternoon of 2 April when he turned into the path of an oncoming Kawasaki motorcycle, ridden by Mr Samways and his wife.
Mr Samways was pronounced dead at the scene.
Barbara Samways, who was riding pillion, was airlifted to hospital but died four days later.
Dorset Police said a blood test on Myers revealed the presence of 211 micrograms of benzoylecgonine, a metabolite of cocaine, per litre of blood. The limit is 50 micrograms per litre of blood.
His driving licence had been revoked by the DVLA in 13 March 2017 after he amassed six penalty points during his new driver period. A letter from the DVLA informing him was found unopened in his car.
A statement issued by Mr and Mrs Samways's family said: "We would like to remind people of the dangers of driving after taking drugs as we do not want another family to have to suffer a similar loss."