Bird flu strain found on Dorset coast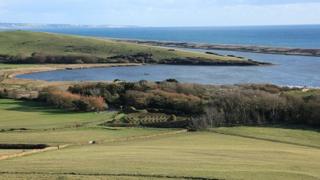 A strain of bird flu has been detected in Dorset, the Department of Environment, Food and Rural Affairs (Defra) has confirmed.
Seventeen wild birds have been found in an area west of Weymouth with a virus closely related to the H5N6 strain.
The disease is highly contagious among birds and bird owners and farmers have been warned to be vigilant and maintain good biosecurity.
Public Health England said the risk to the public was very low.
A spokesperson for Ilchester Estates confirmed the dead birds had been found on the Fleet Reserve near Weymouth.
"Our staff are continuing their winter duties and monitoring the wildlife on the Fleet.
"We are working with Public Health England and APHA (Animal and Plant Health Agency) to deal with this situation."
Defra said the H5N6 strain has been circulating in wild birds across Europe in recent months.
'Not a surprise'
It is different to the strains which affected people in China last year.
UK Chief Veterinary Officer, Nigel Gibbens said the discovery had "not come as a surprise".
"It is vital that anyone who keeps birds - whether a few in a back garden or thousands on a farm - is vigilant for any signs of disease, reports suspect disease to APHA and maintains good biosecurity to reduce the risk of their birds becoming infected."
He said an "avian influenza prevention zone" would be introduced in the area of Dorset where the diseased birds were found.
It will be mandatory for all captive bird keepers to put enhanced biosecurity measures in place.
These include feeding birds indoors to prevent them mixing with wild birds, cleaning and disinfecting footwear and keeping areas where birds live clean and tidy.
There are no plans to carry out any culls or restrict movements.
The Food Standards Agency said that the bird flu outbreak did not pose a food safety risk.