Dorset knob-throwing festival cancelled for 2018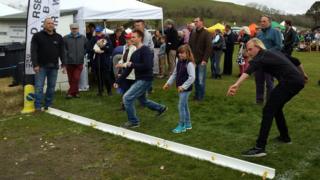 An annual knob-throwing festival has been cancelled for 2018 and could become a biennial event, organisers have said.
The competition to hurl the traditional local Dorset biscuits the furthest distance has been running since 2008.
Knobmaker Moores Biscuits recently told organisers the event had "run its course" but had since changed its mind, festival chairman Ian Gregory said.
The firm said the event would come back "bigger and better" in 2019.
The competition incorporates a food festival, as well as games such as knob and spoon racing and pinning the knob on the Cerne Abbas giant.
More than 4,000 people attended the event in 2017, when it moved from Cattistock to Kingston Maurward House near Dorchester.
Mr Gregory said the cancellation of the event scheduled for May was caused by several factors including the retirement of long-serving committee members and Moores Biscuits' stance.
He said the festival might switch to being held every two years "to give it more oomph".
David Winship, a partner at Moores Biscuits, said: "We've been doing it for 10 years. It's not formulaic but it's much the same year after year and I think the cancellation was right."
In the 2017 competition, Pete Asher threw his biscuit the furthest in the rainy conditions with an effort of 22.70m (74.4ft)
Dorset knob facts
The biscuits have been made by Moores of Morecombelake for more than 150 years
Originally they were made from leftover bread dough with added butter and sugar, hand-rolled and left to dry in the dying heat of the oven
It is thought their name comes from the hand-sewn Dorset knob buttons that were also made locally
They can be eaten with Blue Vinny cheese, dipped in tea or cider, or taken with honey and cream - known locally as thunder and lightning