Weymouth North Quay: Legal battle settled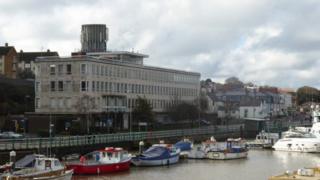 A developer has abandoned attempts to buy a former council headquarters after settling a legal dispute with the authority.
Acorn Property Group previously claimed it had been assured it could convert North Quay in Weymouth into flats.
Owner Weymouth and Portland Borough Council, which had favoured demolition of the building, refused permission.
The authority has agreed to return Acorn's deposit as well as paying the firm £167,500 towards its legal costs.
The two sides exchanged contracts on the £4.5m purchase in September 2016.
In November 2016, the authority refused prior approval to convert the harbour-side block into 56 flats.
The council told Acorn the building was "sui generis", or one of a kind, and any scheme for flats would need planning approval to overturn the block's designated local government use.
'Heal the harm'
The authority had previously hoped the four-storey block, which was built in 1971, would be demolished.
Conservation body English Heritage had supported demolition, saying it would "heal the harm the council offices did to the character of the harbour".
Acorn began legal proceedings against the council for misrepresentation of the sale.
It claimed the council had reneged on planning assurances which were given before the exchange of contracts.
The authority said it was Acorn's responsibility to establish key details during the sale process.
In January 2018, the Planning Inspectorate granted an appeal by the developer, allowing the change of use to flats.
Weymouth and Portland Borough Council, which has spent about £10,000 a month maintaining the block, said the "clean break" settlement left the council free to pursue demolition opportunities.
It said it was considering a mix of residential, commercial and parking use for the site.