Poole council puts new fines for beggars on hold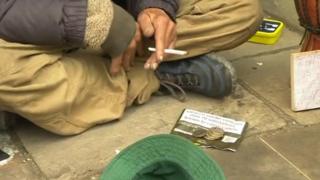 New rules which would see £100 fines issued for begging in a Dorset town have been put on hold by a council.
Borough of Poole had introduced Public Space Protection Orders (PSPOs) which also targeted drinking alcohol in the street and "behaviour likely to cause nuisance".
The Bishop of Sherborne said the measures would make the homeless "even more vulnerable".
The council said they would now be discussed by a committee.
The PSPOs came in to force on Thursday in the town centre, Holes Bay, Alexandra Park and Ashley Road area.
Under the restrictions, fines could also be given to those found sleeping in car parks and doorways.
The authority had initially said they were the result of feedback from residents and it wanted to create "a safe and welcoming place for everyone".
A public consultation showed 50% of 279 respondents agreed with PSPO restrictions on begging in the town centre.
The Right Reverend Karen Gorham criticised the police, saying Borough of Poole "seems to have ignored" the public.
"I know that many local people and charities highlighted the vulnerability of the increasing number of homeless in the town in responding to the consultation," she said.
Earlier, the rapper Professor Green criticised neighbouring Bournemouth council for fitting bars to public benches to stop homeless people sleeping on them.
The council later removed them, citing "the depth of feeling" over the issue.