Highcliffe cliff path repairs could be revived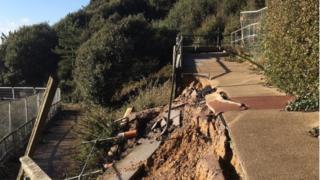 Repair plans for a crumbling cliff path, which were cancelled on cost grounds, could be reinstated after a major cut in the estimated price.
The "zig-zag" path, leading to Highcliffe beach in Dorset, was shut by Christchurch Borough Council in March 2017 amid safety fears.
The council had earmarked £365,000 for the project, but said the cheapest solution could cost up to £1.25m.
New estimates put the cost of the work at £574,000.
An engineering survey of the path from Highcliffe Castle last year revealed its retaining timber supports could collapse at any time.
More than 3,000 people signed a petition protesting the authority's decision not to rebuild it.
The council's Task and Finish Group has now said engineers had provided new estimates for rebuilding the path which put the maximum cost at £574,000 instead of the previous £1.25m.
It said further costs and a margin for contingencies gave a total budget requirement of £884,500.
Councillor Vicki Hallam, in charge of the new appraisal, said: "I am pleased that we have been able to review the original specification and propose a solution that will cost less."
She said the group would be recommending the council set aside £239,500 to allow the path to be rebuilt.
If approved, construction could begin in the autumn with the work completed by Easter 2019.
In August, the council decided not to proceed with repairs despite being awarded £280,000 by the government's Coastal Communities Fund.
Rothesay Drive Residents' Association, which petitioned the council in September, said people were "very angry" and "upset" at the decision.
It said the closure made beach access from Highcliffe Castle difficult for people with disabilities, older people and families with prams.