Man cleared of raping 'chronic liar' demands police apology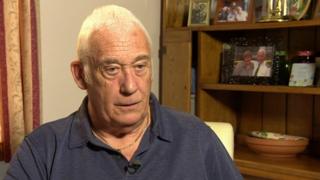 A man who spent two-and-a-half years in jail after a "chronic liar" alleged rape has demanded a police apology.
Former Dorset fire officer David Bryant, 67, was sentenced to six years in 2014 after being accused of attacking a man in the 1970s.
His conviction was quashed in 2016 and in January a High Court judge said his accuser had made "false allegations... to seek personal attention and drama."
Dorset Police said its investigation had been "very thorough and detailed".
Mr Bryant, from Christchurch, received a note in 2012 telling him it was "in [his] interest" to call his accuser and outlined plans to go to police and the media with unspecified allegations.
"One way or another you will pay," said the note written by the man, Daniel Day, 55, of Bromley, Kent, who was described as a "chronic liar" by a judge during Mr Bryant's appeal.
Mr Bryant said police had not taken his own allegation of blackmail seriously and instead pursued the false claim.
He sought a judgement from the High Court to explicitly state he was innocent and that his accuser had not been attacked.
The previous Court of Appeal judgement had only gone as far as deeming the conviction "unsafe".
In a written judgement published on 31 January, High Court judge Master Gary Thornett said: "This would not strike any reasonable person as anything other than a blackmail note. It is clearly threatening."
Master Thornett said a psychiatrist revealed Mr Day had "extensive recorded medical history of his self-reporting as a liar" but that this "crucial evidence" was not presented at the original trial.
Motivation "in raising this allegation came to be based upon a desire to claim compensation from David Bryant and the state," he said.
Mr Bryant, whose wife Lynn died in February 2017, told the BBC he wanted Dorset Police to apologise or "at least come and talk to me".
"I am happy that we've got to where we are, but sad that [Lynn] is not here to see it," he said.
A Dorset Police statement said the investigation was "very thorough and detailed" and that it had been deemed there was "sufficient evidence" to prosecute.
"The force has deep sympathy for Mr Bryant and his family who have endured his imprisonment for a conviction that has been found to be unsafe," the statement added.