Dorset coin thief accused of murdering wife on voyage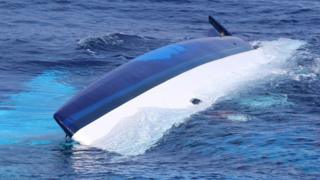 A man has been arrested on suspicion of murdering his wife whom he reported missing as the newlyweds sailed off the coast of Cuba, the FBI has said.
Lewis Bennett, from Poole, Dorset, was arrested on suspicion of second degree murder in a Miami court on Tuesday.
He was being sentenced for smuggling stolen coins during the voyage in May from which he was rescued alone.
The FBI believes Bennett "knowingly and unlawfully killed" Isabella Hellmann, the mother of his child.
Bennett reported the 41-year-old estate agent missing in an SOS call in the early hours of 15 May, saying their 37ft catamaran, Surf Into Summer, had struck an unknown object and was sinking.
Escape hatches
FBI Special Agent James Kelley alleged in court documents that the hull appeared to have been breached in two places from inside the vessel, but this damage was not catastrophic.
Instead two underwater escape hatches had been opened which would cause the boat to flood, the agent claimed.
Bennett said during an interview that they had started their trip in St Maarten and then travelled to Puerto Rico and Cuba before starting the trip back to their home in Delray Beach, Florida.
But Mr Kelley claimed: "Based on knowledge learned during the course of this investigation, the fact that Bennett waited until the final leg of his voyage to activate those devices is indicative of the fact that he wanted to ensure his own rescue and survival after murdering his wife and intentionally scuttling his catamaran".
'Monetary incentive'
Bennett has requested a presumptive death certificate for Ms Hellmann, which Mr Kelley says is "extremely early" for a husband who "would normally want his wife to be found alive".
The agent claims there is a monetary incentive if she is presumed dead as Bennett would inherit the American's Delray Beach home and the contents of her bank accounts.
The FBI found that, as he was rescued, Bennett was smuggling collectable gold and silver coins that he had reported to police as having been part of a haul worth $100,000 (£72,000) stolen from an employer's boat in St Maarten.
Investigators searched the Delray Beach home to find a further stash of gold coins.
British-Australian dual citizen Bennett admitted a charge of transporting stolen property over the recovered coins, valued at about $38,480 (£28,500), and was jailed for seven months on Tuesday.