Beggars to be fined £100 in Poole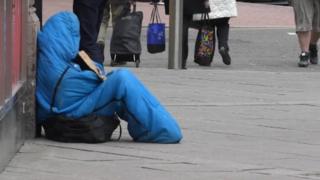 Plans to issue £100 fines for begging are to go ahead, Poole council has confirmed.
The introduction of fines in the Dorset town was put on hold last month following criticism from the Bishop of Sherborne and residents.
But the Borough of Poole says the fines will now come into force from 16 April.
The Public Space Protection Orders (PSPOs) will be in place in the town centre, Holes Bay, Alexandra Park and the Ashley Road area.
Under the rules, fines could also be given to those found sleeping in car parks and doorways.
'Vulnerable people'
The Reverend Pat Southgate, of homelessness charity Routes to Roots, said: "Once again we are appalled.
"This measure does nothing to help these most vulnerable people find a solution to help meet their needs, it merely puts them at risk of being criminalised for being poor."
The Bishop of Sherborne, the Right Reverend Karen Gorham, was among those who criticised the fines which she said would make the homeless "even more vulnerable".
More than 3,350 people have signed an online petition against the measure.
The authority said a public consultation showed 50% of 279 respondents agreed with PSPO restrictions on begging in the town centre.
It said the fines aimed to "tackle behaviours that are causing concern and distress to people in the town centre, such as aggressive begging, street drinking".
The restrictions will be reviewed by the authority in six months.