Murder and fraud: What happened to Carole Packman?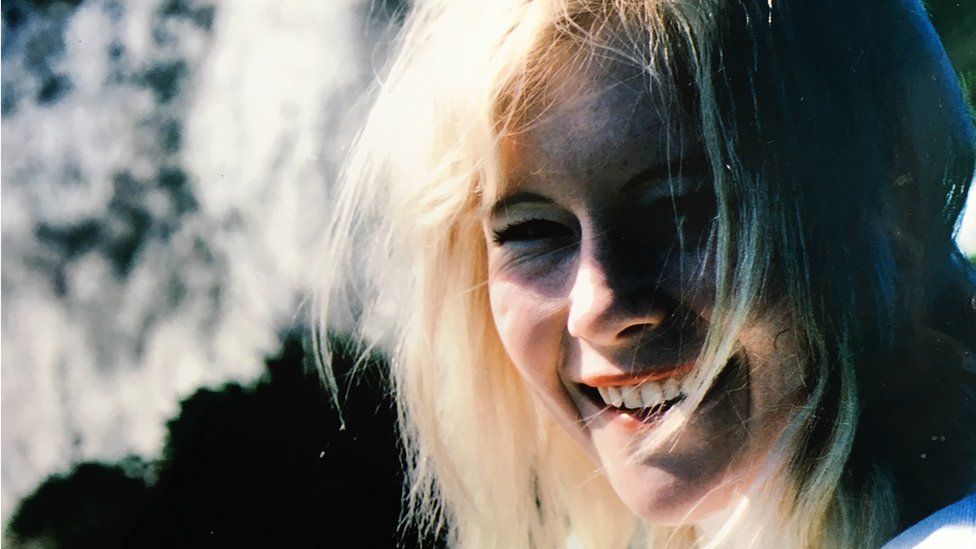 For years Sam Gillingham believed her mum had walked out on her. The truth only began to emerge when her father Russell Causley tried to fake his own death. Though he is serving life for his wife's murder, their daughter fears he may never reveal what really happened.
"There was a piece of paper which had her wedding ring on. It just said that she'd had enough, that she'd decided to leave and wouldn't be coming back."
Sam Gillingham was 16 when her mother Veronica Packman - who liked to be known as Carole - vanished from the family's suburban home in the seaside resort of Bournemouth.
She remembers frantically running up the stairs to check her parents' room, as her father Russell looked on.
As she gazed at her mother's untouched belongings, he said confidently: "She'll be back."
The idea that 40-year-old Carole had walked out was not implausible.
A year earlier, Russell had invited his 26-year-old colleague Patricia Causley into the family home as a lodger.
The couple both worked in the aviation industry, but despite appearances - a sports car in the driveway of their large detached house, Rolex watches and regular trips abroad - needed extra money.
"For the first six months, things were weirdly normal," recalls Sam, who was sharing a room with the household's newest member. "Patricia was almost like a nanny for me."
But as time passed, she remembers Patricia sneaking out of the bedroom late at night.
"I learned later my mother knew already that my father was having an affair," Sam says, describing how the lodger took her mother's place in the 20-year marriage.
She recalls how Carole reacted with open distress as the pair flaunted their relationship. Tensions rose in the family home and, like many teenagers, young Sam rowed with her mum - a point she now concedes meant everyone in the house was "horrible" to her.
So when her mother seemingly uprooted to find happiness elsewhere, the concept was not so unthinkable.
But as the weeks passed, Sam became increasingly concerned about her mother's whereabouts and reported her missing to police.
A relief, of sorts, came a few months later, shortly before Christmas 1985.
The family was told by officers that Carole had declared herself safe and well at Bournemouth police station, asking that nobody bother her further.
As a consequence, Sam came to accept her mother was not coming back any time soon - something she looks back on with regret.
"It was the flippancy of thinking the problem had gone. I thought my mother was the problem in the house... I now know that was not the case."
In the months following Carole's departure, Russell asked his daughter to leave the family home.
Their relationship had been fraught, punctuated with frequent episodes of violence and bullying that had forced her to spend time in a children's home.
Once Sam had left, she grew even more distant from her father and concentrated on building a life with her future husband and new son.
But in 1993, out of the blue, she received some shocking news. Her dad - who had since taken the surname of his lover - was missing at sea and presumed dead.
Police told Sam her father had been on a yacht off the coast of Guernsey with his common-law wife, Patricia, when he fell overboard.
A panicked Mayday message was sent to the coastguard and a major rescue operation saw helicopters and boats scouring the water.
When his body could not be found, it seemed that - just like his wife - Russell Causley had disappeared.
Sam was bereft - despite their problems, she had happy memories from her childhood, including playing chess and cribbage with her father for hours.
What she was then unaware of was that police had become suspicious of Causley's disappearance and had begun to investigate.
The same day Causley went missing, a mysterious "Mr Russell" had booked a hydrofoil from St Peter Port back to the mainland.
That, combined with his lover's inconsistent account of what happened on the boat, led Guernsey Police to ask Causley's life insurance company to alert them if a claim was made.
Sure enough, days later a claim for £790,000 was lodged on Patricia's behalf.
"And lo and behold she goes to a pub in Brighton and Causley's sitting in the corner," recalls former detective Paul Donnell.
He described how officers working with the insurers followed her and swooped in with arrest warrants as the pair left the pub.
"That's when it all starts to unravel."
Guernsey Police forged ahead with its investigation into Causley for fraud and contacted Dorset Police for background information - a conversation which took them on a completely different tangent.
"As an aside, it was mentioned that Sam had reported her mother missing some time ago and was very concerned," says Mr Donnell.
"At that stage, we were hoping it was purely and simply a marriage breakdown - she'd left, he could give us some information, we could trace Carole and put it to bed.
"I made arrangements to speak to him - but right from the off, he was a very strange character."
Mr Donnell remembers Causley insisting on tape-recording their conversation.
He told detectives about a letter he had supposedly received from Carole in 1991, but couldn't give details. He also jumped in to answer any questions posed to Patricia.
A tale about how Carole had fled the family home with a man "driving a red Porsche" and had gone to "Switzerland or Canada" was also offered up.
"Well which is it?" Mr Donnell remembers asking. "What's actually happened to Carole? Have you tried to contact her?
"He couldn't give us a proper answer. We could see he was very controlling."
Causley was tried, convicted and jailed for fraud in 1995.
But his peculiar interview led detectives to review Carole's apparent visit to the police station 10 years earlier, which revealed the officer taking her details had failed to carry out basic identity checks.
The urgency of the investigation intensified further when they tracked her last confirmed sighting to a solicitor's office, where she had inquired about a divorce.
"The solicitor had given her information and he was expecting her to come back to him," says Mr Donnell. "That never happened."
Police found she had stopped going to the doctor, despite having various issues. She hadn't visited the dentist, contacted her friends, or any of the neighbours.
She had been missing for more than eight years and nobody knew where she was, or had even really looked for her.
Tony Nott, the detective chief inspector who led the investigation for Dorset Police, admits the force had been "sloppy" after Carole was first reported missing.
"It was a major mistake by the police," he says. "I'm afraid we didn't do well there."
The waters muddied further when a paper trail led them to Canada, where Carole, it appeared, had been working in the aviation industry in Montreal.
But it was established it was not her - it was in fact Patricia, who had been using her work permit.
Police then found forgeries on Land Registry documents which allowed Causley to sell their jointly-owned house.
Mr Nott says "all the ingredients" were there to suggest he had killed his wife - nobody else had the opportunity or motive.
But one major obstacle remained. A body had not been found.
He described how forensic archaeologists scoured cemeteries in Bournemouth and drainpipes in the New Forest after Causley, who was in prison, allegedly confessed to inmates he had killed his first wife.
But his accounts of hitting her with an axe and disposing of her body in acid were inconsistent - deliberately so, believes Mr Nott.
"It was a game of cat and mouse," he says.
After some of Carole's belongings were found in a storage unit Causley had access to, the Crown Prosecution Service decided there was sufficient evidence to prosecute.
He was found unanimously guilty of murder at Winchester Crown Court in 1996 and jailed. But in June 2003 his conviction was quashed after his alleged confessions were deemed unsafe.
A retrial found him guilty a year later, after his sister broke her silence - telling jurors she had heard her brother admit his crime.
"Russell Causley is an intelligent man," says Mr Nott. "[But] he was at a point where his marriage was beyond saving.
"Most normal people would go and see a solicitor and get a divorce. Russell Causley thought he could keep the house, keep his mistress, keep everything and get rid of his wife - get rid of her body and he wouldn't be caught.
"Well he was wrong. He was caught."
Sentencing Causley to life, Mrs Justice Haslett described him as a "wicked" person.
"Not only did you kill your wife and somehow dispose of her body," she told him. "You left your daughter in a permanent state of ignorance as to her mother's fate."
You might also be interested in
Fourteen years on and the absence of answers indeed continues to haunt Sam and her son Neil. She says all she wants to know is where her mother's body is, but despite repeatedly asking her father, he has remained silent.
"If he is released from prison he will think, despite the price he has paid by losing his freedom for so long, that he was actually the one who still won," says Sam, who regrets believing her father's lies so easily.
Neil says the passing of time has done little to ease the family's pain.
"What hope realistically have we got, if he is released, of him disclosing where my grandmother is?
"It's hard work, it's draining in terms of trying to understand why someone would do what they've done, and continue that torment all these years on.
"You've got to ask yourself - who is it who's actually serving the sentence?"
This article was updated on 14 November 2018 to reflect that 75-year-old Russell Causley has been refused a move to open prison. Dorset Police said it would continue to work with the family to locate Carole's body.
Related Internet Links
The BBC is not responsible for the content of external sites.