Fines for feeding pigeons in Waterlooville town centre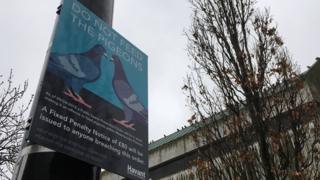 Feeding pigeons in a town centre has been banned after the birds were blamed for damaging homes and businesses.
Havant Borough Council has introduced a new Public Spaces Protection Order (PSPO) with fines of £80 for anyone caught feeding them in the precinct in Waterlooville, Hampshire.
The council said the pigeons were blighting the area and forcing nearby residents to put nets over balconies.
Staff had already asked a number of individuals to stop putting out food.
The ban follows concerns about pigeons which have been roosting on residential balconies that surround the precinct waiting for food, despite measures such as netting, sound boxes, spikes and decoy birds of prey being introduced.
The council's deputy leader Tony Briggs said there was "no option" but to introduce fixed penalty fines.
"It's not fair that people have to live like this. By preventing individuals from feeding them, we hope we will reduce their numbers and the associated impact on businesses and residents," he added.
You may also like:
Sophia Goodwin, from JDI Property Holdings which manages a block of flats in the precinct, said pigeons were the "number one problem" for residents.
"We have invested a considerable amount into preventative measures for the building, however our residents are still suffering. We hope this extra measure will improve the situation."
The council said cafes had also complained about having to clear pigeon mess off tables and chairs.
PSPOs have previously been used by local authorities to restrict activities ranging from drinking alcohol in public to begging and rough sleeping.