Poole Bridge fails to reopen as damage probe continues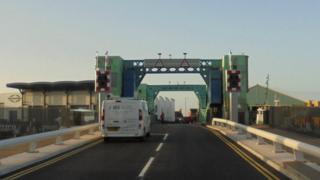 A troubled lifting bridge has failed to reopen to road traffic after repairs following damage to its safety gates.
Poole Bridge has been closed since a "technical problem" on 8 April but the council had said it expected to reopen by Monday.
However a new statement said it was "unable to safely re-open" the bridge.
The 91-year-old bridge closed for major repairs in September 2016. A series of delays meant it reopened seven months later than planned.
Borough of Poole said on Friday a temporary fix had been completed and an investigation was continuing into the cause.
A statement on Monday afternoon said: "Unfortunately we are unable to safely re-open Poole Bridge to all road users today, despite the best efforts of our staff who worked throughout the weekend to carry out temporary repairs."
It apologised and said it was "aware of the impact" on the local community.
The bridge remains open to pedestrians and cyclists, while motorists are encouraged to use the Twin Sails Bridge.
Work began on major repair work in September 2016 after cracks appeared in the concrete parts of the structure.
Hold-ups to the reopening of the crossing - linking the town centre to the port and ferry terminal - included delays in the delivery of materials and parts, as well as adverse weather conditions.
It reopened in January when the council said it was "confident it was safe and reliable".