Parnham House 'at risk of collapse' after arson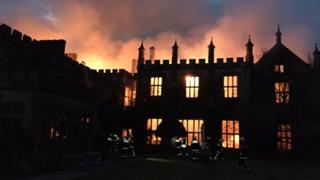 An "exceptional" stately home which was partially destroyed by fire is likely to collapse unless repairs are carried out within months, a report has said.
Parnham House near Beaminster, Dorset, was gutted by the blaze in April 2017.
Owner Michael Treichl, who was arrested on suspicion of arson, was found dead two months later.
A report by Historic England said no repair work had yet been started, leaving the external walls at imminent risk.
The fire broke out in the early hours of 15 April 2017 while no-one was inside the house, and took four days to fully extinguish.
Police ended their arson investigation after the death of Mr Treichl, 69, adding that they were not looking for any other suspects.
The report, obtained by the BBC under a Freedom of Information request, said the fire had created "serious immediate stability issues".
"With the collapse of the internal floors and roof the external walls are unrestrained," it added.
"Within one or two years the amount of collapse could accelerate dramatically."
Historic England said stabilisation work should be carried out in 2018 to prevent "likely" collapses of the walls.
It said the work had been "indefinitely delayed" although it did not give reasons.
In a statement, Historic England said it had been "working tirelessly to secure the future of Parnham House".
"Even in its current condition, the property could be attractive to a buyer with the means and passion to restore it," it said.
Previously, the authority said the "exceptional" building, with parts dating from the 16th Century, contained "500 years of fine craftsmanship", including "rare early heraldic glass, panelling and ancient staircases".
The Treichl family undertook major renovations to the property after buying it in 2001, according to a Dorset Life article.