Corfe Castle back on rail network after 46 years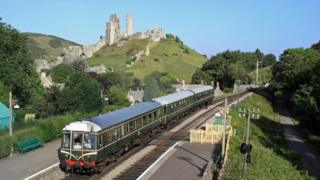 Network trains are to run to a Dorset village for the first time since 1972.
South Western Railway said a Saturday service to Corfe Castle will run from Basingstoke from this weekend until 8 September.
The village lost network trains when the Swanage to Wareham line was closed by British Rail.
Part of the line was reopened by volunteers as a tourist attraction in the 1990s, and it was reconnected to Wareham in 2017.
Swanage Railway, which operates the line, began a 60-day trial service in June 2017, allowing passengers to connect with mainline trains at Wareham.
But further trials have been postponed because heritage rolling stock for the line is not ready.
South Western Railway said it hoped both companies' trial services would continue in the future.
Head of service strategy Chris Loder said: "This partnership will help to encourage visitors from all over the UK to visit Corfe Castle and Swanage."
A morning train will run from Basingstoke, via Salisbury, Yeovil, Weymouth and Wareham.
It will return to Basingstoke on Saturday afternoons, except this weekend when it will stop at Salisbury.
The original line from Swanage to Wareham was ripped up in seven weeks in 1972 after being closed.
Volunteers rebuilt the 5.5-mile (8.8km) stretch from Swanage to Norden over 30 years and have been running regular steam and diesel trains on the line.
Swanage Railway history
1885 - Ten-mile branch line from Wareham to Swanage opens
1969 - End of through trains beyond Wareham
1972 - British Rail closes the line and rips it up
1976 - Volunteers start re-laying track at Swanage Station
1979 - Swanage Railway runs its first diesel train over a few hundred yards of track
1980 - First Swanage Railway steam train runs
1995 - Passenger trains run between Swanage and Norden, via Corfe Castle
2002 - Swanage Railway's tracks meets the national railway system at Motala
2014 - New signalling system between Swanage Railway and Network Rail commissioned
2016 - Norden Gates level crossing officially opens
2017 - Reconnects to the mainline